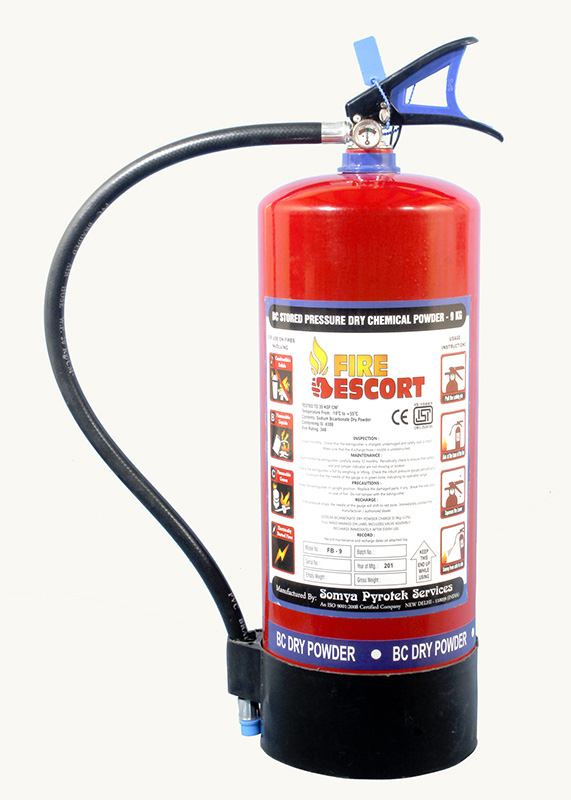 A large oil or gas fire is the worst nightmare of any firefighter. In case of such fires, only a specialist fire extinguisher works. An extinguisher that can effectively knock down the elements of fire triangle & impart a sense of safety to its operator.
Such a life-saving extinguishre is called DCP type extinguisher. which uses a sodium bicarbonate based dry chemical powder. A chemical composition specially made to quell class B & c fires.
So that even the worst of nightmares can not disturb your sleep.
Available Sizes:- 4kg and 9kg.
Other Brands Available :- Blot fire and Agni Shield
| | | |
| --- | --- | --- |
| Model | FB-4 | FB-9 |
| Capacity | 4kg | 9 kg |
| Anti-Corrosive Inhabitor | Epoxy Poleyster Powder Coating | Epoxy Poleyster Powder Coating |
| Conformign IS Code | 15683 | 15683 |
| Type of Extingulshing Media | Dry Powder IS 14308 | Dry Powder IS 14308 |
| Expellent | Pressuized with N2 Gas | Pressuized with N2 Gas |
| Minimum Effective Discharge (%) | 85 | 85 |
| Minimum Jet Length (mtrs) | More than 2 mtr. | More than 2 mtr. |
| Discharge Time (in Sec) | More than 13 Sec | More than 13 Sec |
| Hydraulic Test Pressure (in kgf/cm2) | 35 | 35 |
| Operating Position | Upright | Upright |
| Charged Pressure (in Kgf/cm2) | 15 | 15 |
| Operating Temperature Range (0C) | -10 to (+)55 | -10 to (+)55 |
| Operating Valve | Squeeze Grip with Discharge Hose & Nozzle | Squeeze Grip with Discharge Hose & Nozzle |
| Fire Rating | 21B | 34B |