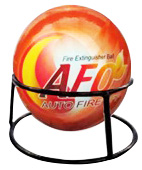 Trade Name :
"Auto Fire Off "
Dimension : Sphere Diameter 15 cm.
Gross Weight : 1.30-1.50 kg
Chemical Weight : 1.25 kg.
Fire Extinguisher Agent : Non Toxic Mono Amonium Phosphate
Fire Type
Fire Rating : 1A*, 5B*. C*
Container : Outer Layer of Pent Foam about 11 mm thick shield by PVC film.
Function : Flame Activated.
Features Auto Fire Extinguisher Ball
Self Activating.
Fire Extinguisher Ball Work Automatically when in contact with fire.
Install within 30 Centimeters over any fire hazard.
Alarm
When the Ball explodes, the builtin alarm goes off releasing an approximately 138 decibel noise.
Lightweight
Weighing at 1.30 kg, it is suitable for anyone ,women, children and elderly people.
Easy to Use
No Training required. Just throw the ball with one hand into the fire.
Safe
No need to get close to the fire.
The ball will not salf-ignite when shaken or damaged
The Outward driving force from activation of the ball does not harm human or environment
Non-Toxic to the environment. Fire Extinguisher Ball is made from human and environment friendly materials.
Fast and Effective
It activates within 3 seconds after contacting the fire
When used together with two or more ball , it can suppress a large fire.