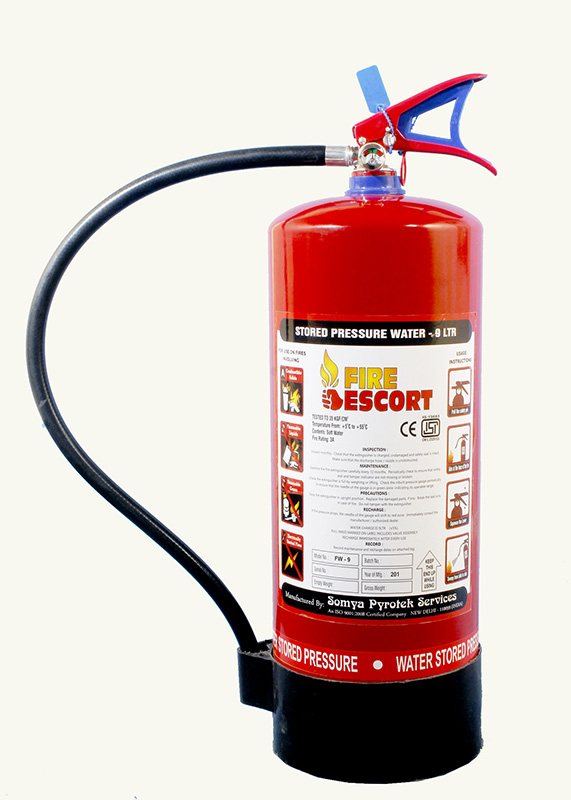 The Oldest Known enemy of fire is water. For Centuries, It has remained the best weapon in fire brigades arsenal.
It has proven effectiveness against Class A fire, due to its unmatched ability to fight not only surface fires but also deep-seated fires. Hence, removing any possibility of re-ignition.
A true fire douser that kills fire right to its core!
Available Sizes :- 9 Litres
Other Brand Available :- Fire Escort
| | |
| --- | --- |
| Model | FW-9 |
| Capacity (in Litre) | 9 |
| Anti-Corrosive Inhibitor | Epoxy Polyester Powder Coating |
| Type of Extinguishing Media | Soft Water |
| Expellant | Pressurized with Nitrogen gas |
| Minimum Effective Discharge(%) | 95 |
| Minimum Jet Length (in metres) | More than 2 |
| Discharge Time (in seconds) | More than 13 |
| Hydraulic Test Pressure (in kgf/sq. cm) | 35 |
| Operating Position | Upright |
| Operating temperature Range (in Celsius) | (+)5 to (+)55 |
| Operating Valve | Squeeze Grip with Discharge Hose |
| Fire Rating | 3A |