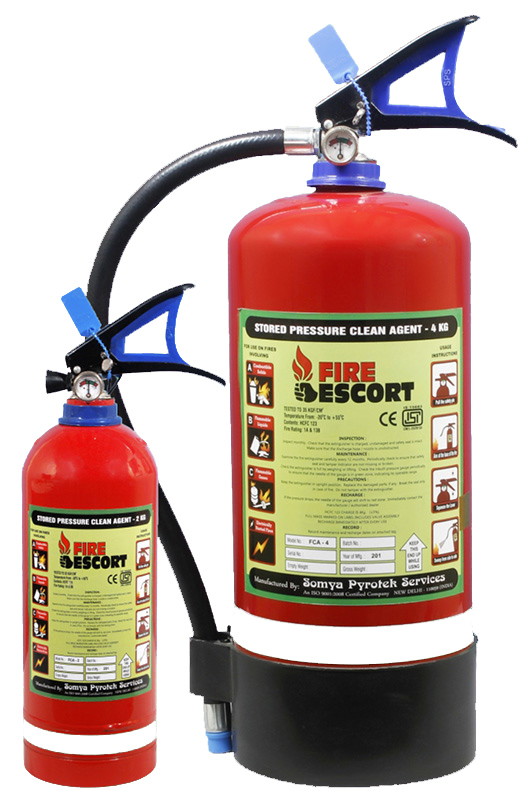 When it comes to dousing fire in electrical or electronic equipment such as computers, servers etc., a powder based extinguisher only adds to the damage.
The need of the hour in an extinguisher that can quell fire without any post-fire damage.
Fire Escort s HCFC 123 Clean Agent extinguisher fulfils that exact need.
Its active agent, HCFC 123 in an ozone friendly gas and a potent fire fighting agent, which leaves no residue post usage, Hence, no post fire damage to the equipment.
Moreover, being extremely lightweight, these extinguishers can be carried to the point of actiono with ease and in less time.
TECHNICAL SPECIFICATION
Model
FCA-2
FCA-4
Capacity
2
4
Anti-Corrosive Inhibitor
Epoxy Polyester Powder Coating
Epoxy Polyester Powder Coating
Type of Extinguisher Media
HCFC 123 Clean Agent
HCFC 123 Clean Agent
Expellant
Pressurized With N2 gas
Pressurized With N2 gas
Minimum Effective Discharge(%)
95
95
Minimum Jet Length(mtrs.)
More than 2 mtr.
More than 2 mtr.
DischargeTime(Sec.)
More than 8 sec.
More than 8 sec.
Hydraulic Test Pressure(Kgf/Cm2)
35
35
Operating Position
Upright
Upright
Operating Temperature Range(0c)
-20 to +55
-20 to +55
Operating Valve
Squeeze Grip Type with Nozzle
Squeeze Grip Type with Discharge Hose
Fire Rating
1A & 8B
2A & 21B