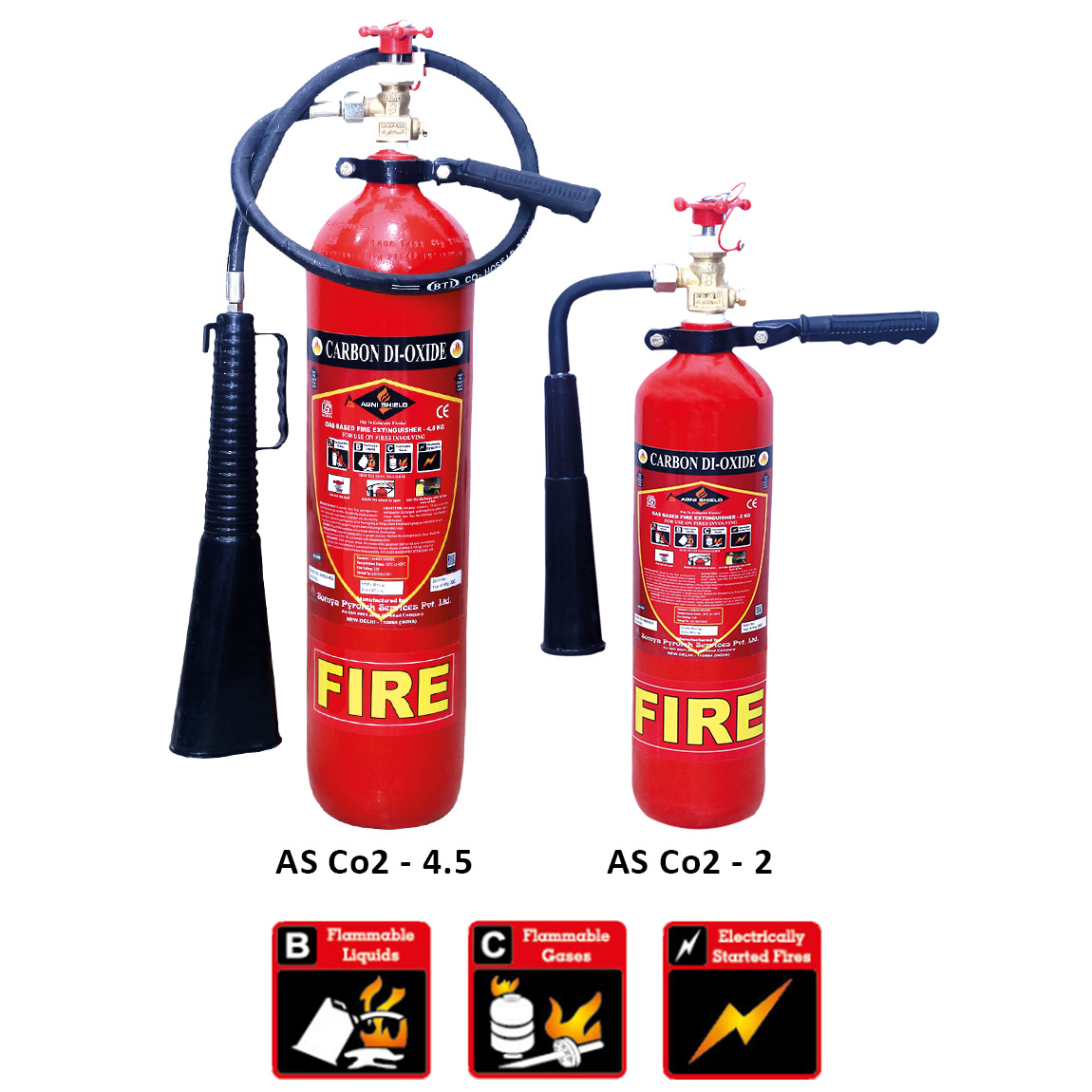 Electronic equipment in any organisation creates its backbone, as several daily activities depend on their proper function. Fire at such a place can not only result into huge financial loss, but can also shutdown all business operations.
Keeping these facts in mind, we have created CO2 extinguishers that are hard on fire but easy on operations. These extinguishers displace fire fuelling Oxygen from the surroundings, suffocating fire through a blanket effect. Being gas based and electrically non-conductive, they do not affect any of your sensitive electronic equipment.
KEY FEATURES
SIMPLE OPERATION & EASY TO MAINTAIN
NO RESIDUE AFTER DISCHARGE WHICH MAKES IT IDEAL FOR SENSITIVE ELECTRICAL EQUIPMENT.
Technical Specifications
| | | |
| --- | --- | --- |
| MODEL | AS Co2 - 4.5 | AS Co2 - 2 |
| Capacity (Kg.) | 4.5 | 2 |
| Filling Ratio | 0.667 | 0.667 |
| Type of Extinguishing Media | Co2 GAS Confirming to IS:15222 | Co2 GAS Confirming to IS:15222 |
| Expellant | Self | Self |
| Minimum Effective Discharge (%) | 95 | 95 |
| Discharge Time (in Sec.) | More than 2 | More than 1 |
| Minimum Throw (in mtr.) | More than 8 | More than 8 |
| Operating Position | Upright | Upright |
| Operating Tempreature Range(C) | (-)30 to (+)60 | (-)30 to (+)60 |
| Operating Valve(3224) | Squeeze Grip / Wheel Type | Squeeze Grip / Wheel Type |
| Fire Rating | 55B | 21B |