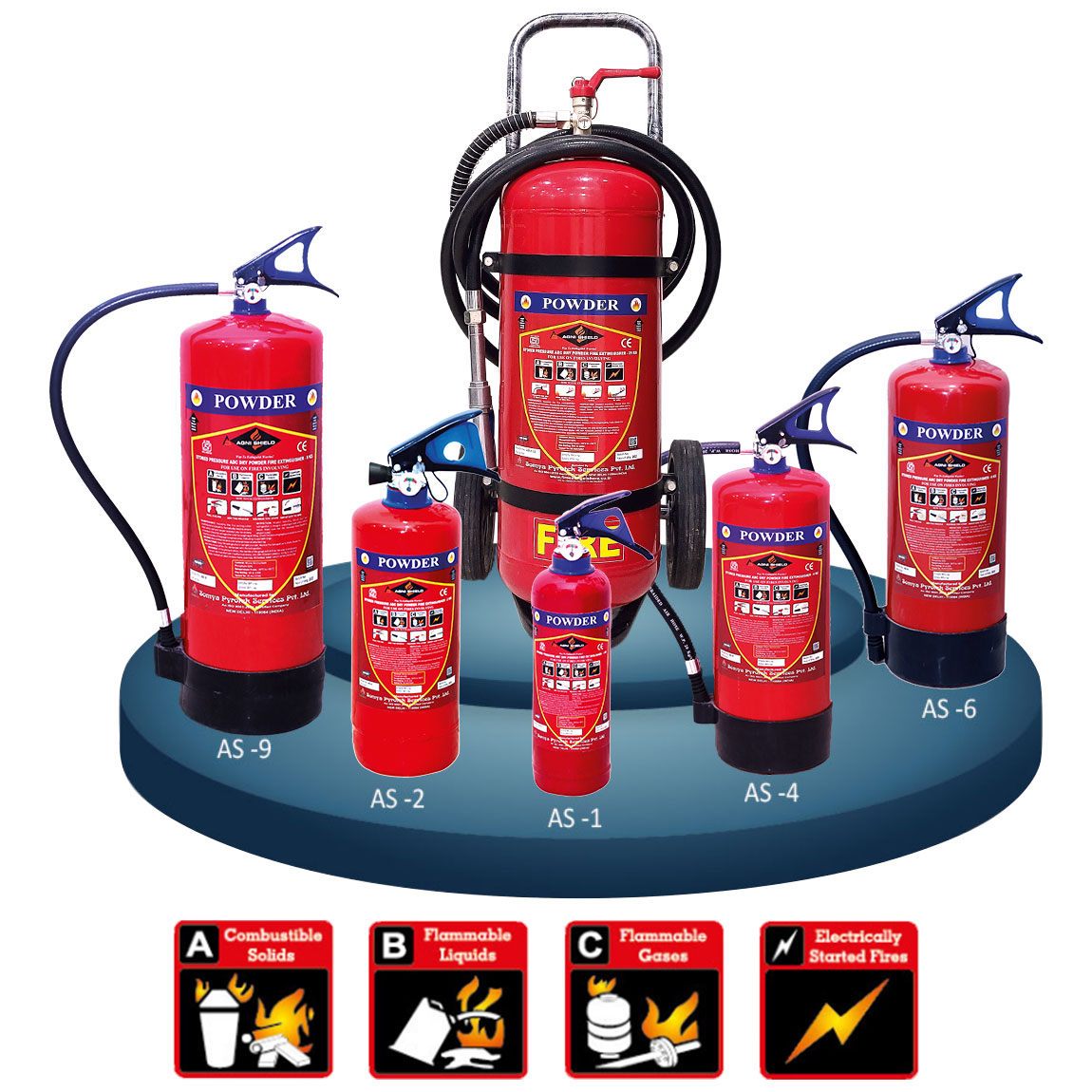 ABC Stored Pressure Type Fire Extinguishers
We understand that fire fighting is not a piece of cake. One should know the class of fire before dousing it, or else the fire extinguisher could do more damage than the fire itself. In order to keep such situations at bay & quell fires effectively, we have created mono-ammonium phosphate powder based extinguishers that take such uncertainties out of the equation. Being a multipurpose firefighting agent, it extinguishers Class-A,B,C & electrically started fires, with ease.
So that when you douse fire, you can forget about its class & simply Concentrate your energies to knock it down.
KEY FEATURES
SIMPLE OPERATION & EASY TO MAINTAIN
EASY SNAP SEAL WITH SQUEEZE GRIP VALVE
STATE OF THE ART PRESSURE GAUGE
MULTI PURPOSE FIRE EXTINGUISHERS WORK ALL TYPE OF FIRE
Technical Specifications
| | | | | | | |
| --- | --- | --- | --- | --- | --- | --- |
| MODEL | AS - 1 | AS - 2 | AS - 4 | AS - 6 | AS - 9 | ASSP - 25 |
| Capacity | 1 | 2 | 4 | 6 | 9 | 25 |
| Anti-Corrosive Inhilbitor | Epoxy Poleyster Powder Coating | Epoxy Poleyster Powder Coating | Epoxy Poleyster Powder Coating | Epoxy Poleyster Powder Coating | Epoxy Poleyster Powder Coating | Epoxy Poleyster Powder Coating |
| Confirming IS Code | 15683 | 15683 | 15683 | 15683 | 15683 | 15683 |
| Type of Extinguishing Media | Dry Powder IS 14609 | Dry Powder IS 14609 | Dry Powder IS 14609 | Dry Powder IS 14609 | Dry Powder IS 14609 | Dry Powder IS 14609 |
| Expellant | Pressurized with N2 gas | Pressurized with N2 gas | Pressurized with N2 gas | Pressurized with N2 gas | Pressurized with N2 gas | Pressurized with N2 gas |
| Minimum Effective Discharge (%) | 85 | 85 | 85 | 85 | 85 | 85 |
| Minimum Jet Length (mtrs) | More than 2 | More than 2 | More than 2 | More than 2 | More than 2 | More than 6 |
| Discharge Time (in Sec.) | More than 8 | More than 13 | More than 13 | More than 13 | More than 13 | More than 30 |
| Hydraulic Test Pressure( Kgf/Cm2) | 35 | 35 | 35 | 35 | 35 | 35 |
| Operating Position | Upright | Upright | Upright | Upright | Upright | Upright |
| Operating Tempreature Range(C) | (-)30 to (+)60 | (-)30 to (+)60 | (-)30 to (+)60 | (-)30 to (+)60 | (-)30 to (+)60 | (-)30 to (+)55 |
| Operating Valve | Squeeze Grip with Nozzle | Squeeze Grip with Nozzle | Squeeze Grip with Discharge Hose | Squeeze Grip with Discharge Hose | Squeeze Grip with Discharge Hose | Controllable Discharge Valve Mechanism |
| Fire Rating | 1A & 21B | 1A & 21B | 2A & 55B | 3A & 89B | 4A & 144B | 20A & 233B |